While scratching with the mouse typically sounds the way terminatorX users want it to (at least if the feedback I get is representative) it doesn't really feel like scratching. The only way to get that traditional haptic feedback is to turn your turntable into a mouse device.
A few terminatorX users have built their own turntables and I'm really happy to present some of these creations below. Please, if your turntable is missing send me some pictures of it so I can add them here. Thanks to all contributors!
Adam's turntable
Creator: Adam King
Adam's turntable features very unique colors. Not a single feature of the mouse is left unused with this device: All buttons are available and the 2nd axis can be controlled with the red knob.
Bob's turntable
Creator: Bob Arctor
Bob's very interesting turntable transfers it's rotational speed via a belt – he describes his terminatorX device this way:
"The method is especially good for mixing, not only scratching, because it is very stable (belt eliminates vinyl imperfections, transferring only rotational speed)"
Fernando's turntable
Creator: Fernando S. Fabreti
Fernando's turntable differs from the others in this section as he attached the mouse to the tone arm of the turntable. Take a look at the "in detail" picture to find out how Fernando's table works.
Note: Fernando also contributed a scratch – see the user's scratches section.
Toqer's turntable
Creator: Toqer
Toqer is using an optical device for his turntable. The image is somewhat low-res but you get the idea.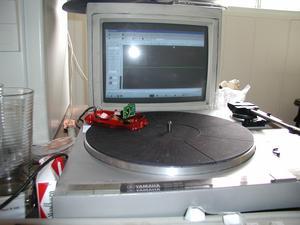 Matt's turntable
Creator: Matt Thomas
Proudly presenting DJ Loopdloop's terminatorX turntable. A very interesting approach that hides the mouse completely inside the turntable – have a look…
My turntable
Creator: Me
These are the pictures of my very own terminatorX turntable. The turntable is described in more detail in this legacy document.